Australia's longest serving tattoo removal clinic

to book a FREE
CONSULTATION
LASER TECHNICIAN HILARY QUINN
 ABOUT LASER REMOVAL
About the Nd YAG laser: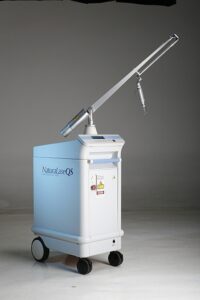 'Q.switch Nd YAG' lasers are a highly focused medical laser that worldwide are found to be the most ideal laser available for the removal of tattoos, most especially the removal of dark ink tattoos (black, dark blue, grey).
How laser works:
Laser is a highly powered form of light that can be set in individual colour spectrums. For instance, when a laser is set in the dark ink spectrum it will only affect colours (and shades) within that spectrum and will ignore colours (and shades) that are not within this spectrum. Your dark ink tattoo is within this spectrum whilst your skin is not which means that the laser can be passed through your skin to locate your ink which is situated in the under layers of the skin (our top layer of skin is free of ink and remains unbroken during treatment). When the beam of the laser strikes the ink in a tattoo it shatters the ink into very fine particles that are then small enough to be absorbed and removed by the body's own cell cleaning (lymphatic) system.
Can I speak to a Laser Technician on the phone?
Yes, our technician – Hilary Quinn is available throughout the day to speak to those who are considering laser tattoo removal. She is happy to answer any and all questions you may have and can be reached on either 03 9563 7161 or 0431094315 or alternatively by email – info@melbournetattooremoval.com.au (or use the email section below).
Can I have my first treatment at my Consultation?
Yes, it is usual for Consultation to include first treatment. Consultation appointments include enough time for treatment and you can decide whether you would like to have treatment after having the process explained to you by our Laser Technician.
Will it Scar?
When tattoo removal is performed by a skilled technician scarring is a rare occurrence. Melbourne Tattoo Removal uses the most up to date method of tattoo removal which is designed not to scar or cause lightening (hypo-pigmentation) of the skin.
Can the area be re-tattooed?
Yes the area can be re-tattooed following laser removal. Whether you have had complete removal, partial removal or just lightening, the area is able to be re-tattooed. The wish to replace an existing tattoo is a common reason for having laser tattoo removal.
Can just part of my tattoo be removed?
Yes it is possible to remove just a section or piece of your tattoo. Our laser technician has many years experience in high precision removal.
How long after being tattooed can removal commence?
Removal can commence as soon as the tattoo has completely healed. Although it may appear healed within a week or two your tattoo will still require further time to completely heal prior to removal commencing. In addition the ink in a tattoo goes through a solidification process during it's first one to two months of life which must complete prior to removal commencing. Also, over the 10 to 15 days after tattooing our top layer of skin (the epidermis) drops the ink that it soaked up during tattooing when it sheds and renews, this is why tattoos often appear lighter and less distinct a few weeks after being applied, it is essential that this has taken place before tattooing commences.
No experienced provider will offer treatment during this period. Sometimes unscrupulous providers will offer treatment immediately after tattooing because they understand that fresh unwanted ink can be quite an uncomfortable experience and they seek to take advantage of this. A minimum period of eight (8) weeks is advised. Your initial consultation can take place at any time during this eight (8) weeks.
How many treatments will I need?
The number of treatments required varies based on a number of factors which include – amount of ink, type of ink, depth of ink, age of the ink and your skin type. Tattoos can take between a single session and over twenty sessions depending of the above factors. Home made tattoos, very old tattoos, fine line work and sheer shading contain the least amount of ink and so require the least amount of sessions through to tattoos containing filled in areas (block ink) which if heavily inked or inked more than once can take in excess of 15 sessions.
How frequent are the treatments?
Time is required between each treatment in order to allow the body's lymphatic (cleaning) system to remove the ink that has been treated by the laser. This time between treatments also ensures that the immune system does not become de-sensitised to the way treatment works thereby slowing the drainage of the ink. A minimum period of eight (8) weeks between treatments is recommended.
What are dark inks?
The term 'dark ink' is used to refer to any of the following; black, dark blue, grey and shading (wash) in any of the above.
What is that white frost like covering that appears during treatment?
During treatment a nitrous gas is released and appears on the surface of the inked area of the skin. This gas evaporates over the first 3 to 5 minutes after appearing. Before evaporating this gas may cover the tattoo completely giving the impression that the ink has disappeared. While very lightly inked tattoos (i.e. grey wash / transparent shading), some home applied tattoos and very old tattoos may appear lighter at the time of treatment, the result of treatment on a standard tattoo takes an average of three months to be visible as it takes time for the body to remove the treated (shattered) ink.
As a word of caution:Â It is not uncommon for providers airing videos on Youtube to end the video while the gas is still covering the tattoo in order to give the impression that results are instant and dramatic, this is not the case and reputable providers do not do this.
Do you remove eyebrow tattoos?
Yes we remove eyebrow tattoos. Eyebrow tattoos are usually quite shallow and so can be removed relatively quickly. Some brown eyebrow inks contain a substance that stains the skin beneath the tattoo leaving an orange or pink residue. A very small test patch is done prior to treatment to ascertain if this is the case. Also, laser settings that don't affect eyebrow hair must be used. Both of these issues are discussed in detail with clients seeking eyebrow removal.
ABOUT THIS SERVICE
Melbourne Tattoo Removal provides one of the most experienced services in the tattoo removal industry. Our laser technician – Hilary Quinn has many years of experience successfully removing tattoos and employs the most modern method of tattoo removal which is designed to leave the skin undamaged. Melbourne Tattoo Removal was the first clinic in Australia to specialise only in tattoo removal.
Melbourne Tattoo Removal is often referred to as the 'tattooists choice' for their ability to preserve the condition of the skin.
Our most important priority is the condition of your skin during and after tattoo removal.
PRICING
We are committed to affordable pricing. Prices start at $85.00 per treatment.
Discounts
Major discounts apply when multiple tattoos are treated together.
10% Discount applies when having treatment with a friend. Further discounts apply for groups of three or more.
Quotes
Quotes can be secured by supplying sending a photo or by supplying the approximate measurements of your tattoo along with a brief description of the design. These can be sent via email to info@melbournetattooremoval.com.au (or via the email section located on this website) or they can be sent via mobile phone to 0431094315.
Free Consultation
During your consultation you will have the whole process explained to you in detail, any quotes or estimates you require will be supplied and any questions you may have will be answered. Consultation can include first treatment if that is what you decide after the process has been explained however you are under no obligation to have treatment. Consultation can also include a test patch which is treatment of a small area of the tattoo in order to allow you to assess the treatment you will be receiving. Both consultation and test patch are free.
PRESS AND MEDIA
Choice magazine
https://www.choice.com.au/health-and-body/beauty-and-person-al-care-skin-care-and-cosmetics-/articles/tatto-removal
The Age
http://www.theage.com.au/small-business/trends/boom-in-tattoo-removal-businesses-20170206-gu6aks.html
Sydney Morning Herald
http://www.smh.com.au/lifestyle/tatts-gotta-hurt-inking-twice-means-suffering-for-your-art-20110710-1h7zh.html
The Medical Art Of Tattoo Removal (Via VCI)
http://www.thevictoriancosmeticinstitute.com.au/2013/10/the-medical-art-of-tattoo-removal-why-its-so-important-to-have-your-tattoo-removed-by-a-trained-professional-who-utilises-the-q-switched-laser/
Executive Style Magazine
http://www.executivestyle.com.au/why-did-i-do-tatt-2j21t
Ninemsn
http://www.ninemsn.com.au/article/8763317?site=www.health
Married At First Sight (2019)
Our technician Hilary Quinn removing 'Married At First Sight' participant Martha's tattoo.
MAKE AN APPOINTMENT
To obtain further information or to make an appointment please contact us on:
Phone:
(03) 9523 7161
Email:
info@melbournetattooremoval.com.au
Address:
Lido Chambers building
Suite 1 / 229 Balaclava Road
Caulfield North 3161, Vic
(Opposite Caulfied Park / Nearest corner Balaclava & Hawthorn Roads)
Hours:
Monday to Friday: 9am – 8pm
Saturday: 10am – 5pm
By Appointment
| | |
| --- | --- |
| Melways: | 59 B12. |
| Parking: | Parking available nearby. |
| By Tram: | Tram stop No.51 is just a few metres from our front door. Trams: 3, 3a, 16 & 64. |
| By Train: | Trams run direct from Caulfield & Balaclava stations. Malvern Station is a 10 to 15 minute walk from the clinic. |
| GPS location:  | Our GPS location differs from our street address.  Our GPS location is 233 Balaclava Road and our street address is 219-229 Balaclava Road, Cauflield North. |

FIND US